Remember this old video from 2011?
A lot of people close to me know that I loooooove Ed Sheeran. He's on the same level on how I love Paramore that all the times they both went to Manila for a concert, I. WAS. THERE. I followed my husband here in the UK last August 2019 and being caught up with all the moving preparations, I totally forgot I'm gonna be in the country where Ed Sheeran is! I wouldn't remember this video if my friend Aiko didn't mentioned it when we were talking through FB messenger one time. =)) Sooo… we had to try the famous Nando's chicken from the video and we went to the branch in Swindon.
So I browsed through their menu and my eye was caught by their menu cover which was actually an artwork by their cover artist Mongezi Gum. Nando's interior displays different artworks as well which I think is really cool.
Can't get enough of the various stained wood ceiling!
So of course we ordered their Peri-peri chicken with 2 regular sides. Honestly, I never really liked Peri-peri chicken (so does my husband) and sadly our opinion stays the same.
I tried 2 sauces which were Mild Lemon & Herb and Medium Garlic. Preferred the garlic one as the lemon on the other sauce was really strong.
So are we going back here? Hmmmmm, probably but won't eat the peri-peri chicken anymore. Really tried for the experience because… well… Ed Sheeran. =))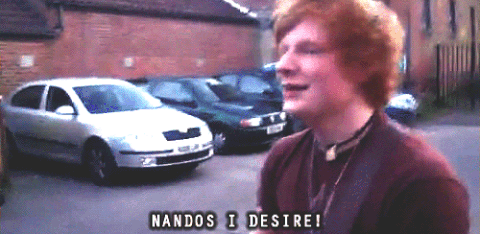 Have your tried Nando's or Peri-Peri chicken?